We Stand Together for More Women Leaders
Women's participation in decision making in Myanmar is unacceptably low. There are a wide range of reasons why women are currently so underrepresented in local, state/regional, and national decision making processes. These range from access to education and resources to deeply engrained social and cultural barriers relating to the role of women in society. Many positive measures are already underway to help address the barriers to women's participation, but much still needs to be done. Myanmar's current democratic transition and new civilian government presents a unique opportunity to advance gender equality and women's participation in political and decision making processes. This is an opportunity that must be capitalized on as the benefits and rationale of involving women are clear: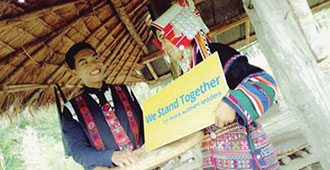 Women make up over half the country's population (51.8%). If they are marginalized from full and equal participation in political and decision making processes, Myanmar cannot be considered fully democratic.
Involving women helps ensure that the needs and interests of women and girls are taken into account in laws, policies, and programs.
Societies that are more inclusive of women, especially women with disabilities and women of marginalized groups, are often less violent and more tolerant. This has positive impact on everyone.
Involving women makes economic sense. Significant research shows that gender equality leads to more prosperous societies and better performing businesses.
This must change. The We Stand Together campaign will work to help address this by mobilizing support for increased women's leadership and representation in politics and other decision making bodies, advocating with key decision makers on changes to facilitate this, and increasing awareness about the importance of having an active role for women in decision making at all levels of society.
The We Stand Together campaign is part of Yaung Chi Thit's overall program to promote women's participation. The program nurtures women leaders by building their capacity, as well as by advocating with the national and state/regional governments to advance women's equality. She Leads addresses the lack of women's participation and leadership in political and decision making process at all levels. It is built on the strength of its alumnae network and focuses on building bridges between women and different stakeholders. During the two-year program period, over 1,000 She Leads alumnae from across the country were trained. She Leads also had a significant community impact, with alumnae educating over 100,000 voters in 2015 elections, over 70 alumnae took on leadership roles in the elections, and numerous others in civil society organizations, educational institutes and as lawyers.
The We Stand Together campaign will mobilize support, advocate with key decision makers, and link existing campaigns from other networks to increase the number of women leaders at all levels of decision making.
Campaign Actions
Community mobilization awareness raising events
Photo petition
Letter writing to key decision makers
Advocacy meetings at national level (YCT), regional and local levels (She Leads alumnae) with key decision makers Media and social media campaign
Women's Leadership in Myanmar:
The Facts
51.8% of the population are women
12.8% of current elected MPs are women
Myanmar is ranked 159 out of 193 countries by the Inter-
Parliamentary Union for the number of women MPs in national parliament, the second lowest in Southeast Asia
Only 1 woman Union Minister out of 22 at the national